LATEST ARTICLES ON HERITAGE
News Articles on Heritage Minerals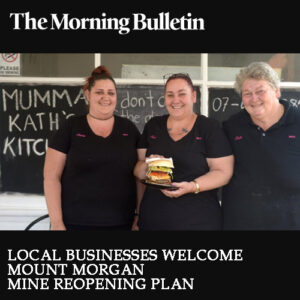 Local businesses welcome Mount Morgan mine reopening plan | Morning Bulletin
Published on 4th Dec 2020 LEIGHTON SMITH
MOUNT Morgan's business owners are trying to keep a lid on their excitement about the potential reopening of Mount Morgan mine because they've heard this story several times before – each time leading to crushing disappointment.
The town's older residents still tell stories about the glory days when the famous gold mine was still open and the township was thriving, with houses occupied and businesses booming on the back of bustling foot traffic.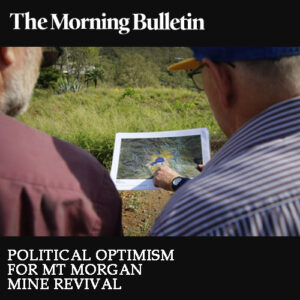 Political optimism for Mt Morgan mine revival | Morning Bulletin
Published on 27th Nov 2020 | LEIGHTON SMITH
HERITAGE Minerals' plan to reopen Mount Morgan mine seemingly came out of the blue but behind the scenes it has received strong support from the region's three levels of government towards making it a reality.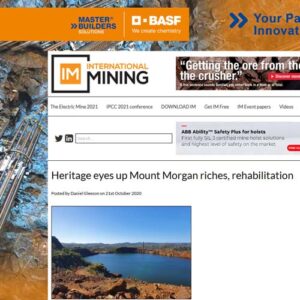 Heritage eyes up Mount Morgan riches, rehabilitation
Posted by Daniel Gleeson on 21st October 2020
A partnership between GreenGold Engineering and Heritage Minerals Pty Ltd has plans to return the Mount Morgan gold mine in Queensland, Australia, to some of its former glory by creating a mean and green way to extract gold from its ample tailings deposits.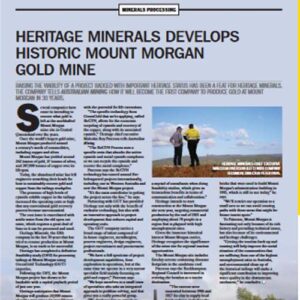 Heritage Minerals Develops Historic Mount Morgan Gold Mine
Published on Oct 6, 2020
Raising the viability of a project badged with important Heritage status has been a feat for Heritage  Minerals. The company tells Australia Mining how it will become the first company to produce gold at Mount Morgan in 30 years.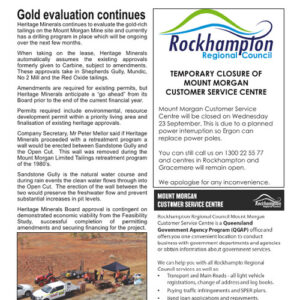 23rd September 2020
Heritage Minerals continues to evaluate the gold-rich tailings on the Mount Morgan Mine site and currently has a drilling program in place which will be ongoing over the next few months.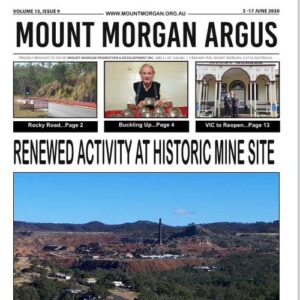 Renewed Activity at Historic Mine Site
 June 2020
Heritage Minerals Pty Ltd are currently evaluating the gold-rich tailings from the historic Mount Morgan Limited mining operation.