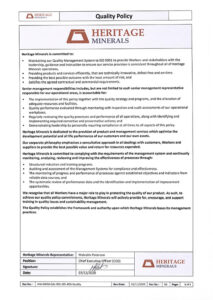 Heritage Minerals is committed to:​
• Maintaining our Quality Management System to ISO 9001 to provide Workers and stakeholders with the
leadership, guidance and instruction to ensure our service provision is consistent throughout all of Heritage Minerals operations.
• Providing products and services efficiently, that are technically innovative, defect-free and on-time.
• Providing the best possible outcome with the least amount of risk; and
• Satisfies the agreed contractual and commercial requirements.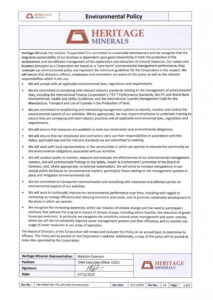 Heritage Minerals Pty Ltd (the "Corporation") is committed to sustainable development and we recognise that the long-term sustainability of our business is dependent upon good stewardship in both the protection of the environment and the efficient management of the exploration and extraction of mineral resources. Our values and business principles as a Corporation are based on a "zero harm" environmental management performance; they underpin our environmental policy and represent the minimum guidelines for the Corporation in this respect. We will ensure that directors, officers, employees and contractors are aware of this policy as well as the relevant responsibilities which it sets out.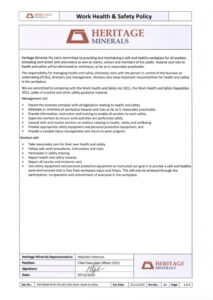 Work Health & Safety Policy
Heritage Minerals Pty Ltd is committed to providing and maintaining a safe and healthy workplace for all workers (including contractors and volunteers) as well as clients, visitors and members of the public. Hazards and risks to health and safety will be eliminated or minimised, as far as is reasonably practicable.
The responsibility for managing health and safety ultimately rests with the person in control of the business or undertaking (PCBU), directors and management. Workers also have important responsibilities for health and safety in the workplace.
We are committed to complying with the Work Health and Safety Act 2011, the Work Health and Safety Regulation 2011, codes of practice and other safety guidance material.
Management will: